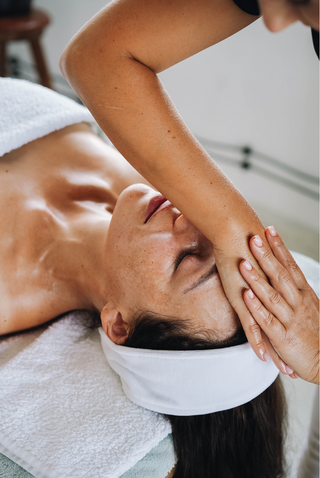 Hydra Facials
Basic
Only HydraFacial uses patented technology to cleanse, extract, and hydrate. HydraFacial super serums are made with nourishing ingredients that create an instantly gratifying glow in just 3 steps: 
CLEANSE + PEEL 
Uncover a new layer of skin with gentle exfoliation and relaxing resurfacing. 
EXTRACT + HYDRATE 
Remove debris from pores with painless suction. Nourish with intense moisturizers that quench skin. 
FUSE + PROTECT 
Saturate the skin's surface with antioxidants and peptides to maximize your glow.
45 mins
Acne
Hydrafacial Basic + Murad Clarifying Booster. Specifically designed to target acne.
BENEFITS
Cleanses, dissolves excess oil, and purifies pores. Treats acne and prevents future breakouts.
INGREDIENTS
Salicylic Acid: Reduces the severity of acne. Green Tea extract: Helps soothe irritation.

BLUE LED LIGHT THERAPY
Target and disrupt p. acnes bacteria  and improves the appearance of oily and congested skin.

60 mins
Brightening
Hydrafacial Basic + Murad Vita-C Booster.

BENEFITS
Accelerates skin's surface renewal , minimizes the look of dark spots & hyperpigmentation and brightens and smooths.
INGREDIENTS
Vita-C Complex enhances L-ascorbic acid stability and potency to visibly brighten skin. Glycolic Acid helps soothe, brighten, revive dull skin & even tone. Tranexamic Acid minimizes the look of hyperpigmentation.
RED LED LIGHT THERAPY
Improves skin tone & texture and controls pigmentation spots.
60 mins
Age Refining
Nassifmd Hydraglucan Intense Hydration Booster.
BENEFITS

Rejuvenates and protects, hydrates, repair, and radiate your skin leaving it shiny. Addressing signs of aging.
INGREDIENT HIGHLIGHTS
Cocktail of ingredients, including hyaluronic acid, glucan and betaine.
RED LED LIGHT THERAPY
Stimulate collagen production and reduces fine lines & wrinkles.
60 mins
Hydra Facial Add-Ons
Perk™ is the world's first hybrid skincare treatment and take-home product in one. Using the same machine as a HydraFacial, Perk™ gently exfoliates dull and damaged skin cells from your eye and lip areas while infusing potent nutrients into the skin.
Treatment + Take Home Kit
Perk Eye

Helps brighten and firm the eye area, using an Eye replenishing serum with energizing tea extract and brightens the dark circles naturally with citric acid. You take home the Eye Replenishing serum to enhance and extend the treatment benefits at home.
Treatment + Take Home Kit
Perk Lip

Helps produce moisturized, smooth and primed up lips. Key ingredients include peppermint oil and peony extract to lightly plump lips. You take-home a Lip Revitalizing Serum to apply on your lips, day and night, or whenever your lips need a hydration boost.